GUSTAFS PANEL SYSTEM® UNIQUE INTERIORS WITH THE UNIQUE ACOUSTICS
Acoustics is one of the main aspects of an interior design. Well chosen material parameters will help to create a space with appropriate conditions of sound reception. Acoustical conditions are very important, especially within public buildings where sound quality is one of the major factors. Usually those are halls, auditoria, airport terminals etc. Interior building surfaces can be constructed out of many different materials and finishes. Ideal acoustical panels are those with a face or finish material that doesn't interfere with the acoustical infill or substrate. As well as the material, the supporting construction is very important. It should be stable and free from the possibility of vibrations. Defected construction may badly influence the room acoustics.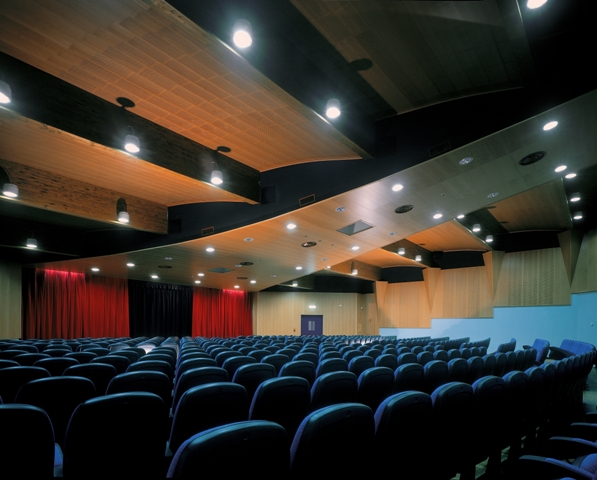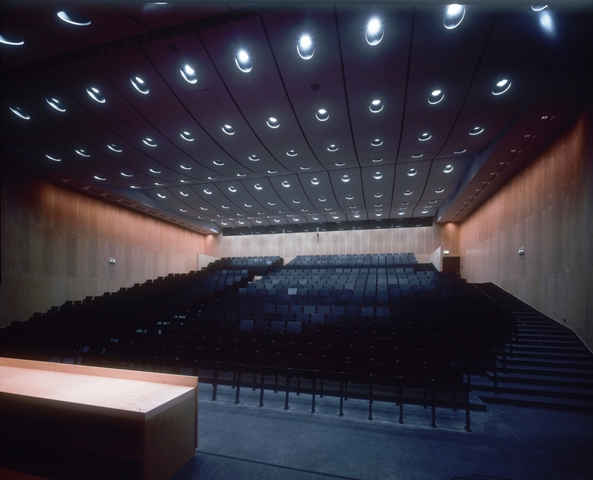 In Poland requirements regarding acoustics in public buildings are regulated by national dispositions (e.g. Ordinance of the Minister of Infrastructure from the 12th of April 2002, regarding technical conditions of buildings and its usage) and norms (e.g. PN-87-B-O2151/02; PN-B-02151-3:1999). The choice of the material parameters is made by a designer, but it is required to consult the project with a professional acoustician.

The choice of bad material parameters or materials from non reliable producers may cause serious consequences in the future. It is almost impossible and as an addition very expensive to proceed repairs and rearrangements after the finishing touch in the building.

INSIDE s.j. STAYS IN A PERMANENT CONTACT WITH SOUND ENGENEERS WHILE IMPLEMENTING PROJECTS.

After combining all the most necessary features: 
- Appropriate perforation pattern
- Appropriate air gap
- Stable, non vibrating supporting construction
Gustafs Inredningar i Dalarna AB created a wide range of acoustic solutions. Each of them was tested in the SP Swedish National Testing and Research Institute. The research was made according to the European norms required In Poland as well:  ISO 354, EN 20354 and EN ISO 11654 (acoustic report). To define the sound absorption coefficient for wall and ceiling cladding, all the perforation patterns were tested.
Wall and ceiling panels of Gustafs Panel System® are classified according to EN ISO 11654.
According to the sound absorption coefficient (α w) EN ISO 11654 specifies classes from A to E.
| | |
| --- | --- |
| Class | α w |
| A | 0,90; 0,95; 1,00 |
| B | 0,80; 0,85 |
| C | 0,60; 065; 0,70; 0,75 |
| D | 0,30; 0,35; 0,40; 0,45; 0,50; 0,55 |
| E | 0,25; 0,20; 0,15 |
The sound absorption coefficient (α w) describes the level of sound absorption by a material. Coefficient: α w= 0 defines total sound reflection, and α w =1 defines total sound absorption.
Gustafs panel system®, as one of the few on the european market, offers a wide range of various acoustic solutions. Gustafs panels are produced in different perforation patterns with various classes of absorption. In a combination of mineral wool and an air gap gustafs panels guarantee the desired acoustic effect. As an addition, the surface is available in differentiated surface finishes and accessories.  

Inside s.j. company cooperates with gustafs inredningar i dalarna ab since 1997. Employees were gathering the experience for years, while working with gustafs panel system®, therefore the service is solid and professional. The best confirmation are the opinions of users and acousticians.
Among the INSIDEs implemented projects, Gustafs Panel System® was used as a finishing material in conference halls (e.g. Wrocław University Faculty of Law and Administration), concert halls (e.g. Filharmonic Łódź), studios (e.g. Polish Radio, Polish National Television-TVP), theaters ( e.g. Wybrzeże Theater in Gdańsk, Dramatic Theater in Elbląg ) and in cinema halls.