| | |
| --- | --- |
| Thickness: | 12,6 mm |
| Standard lengths: | 600, 1000, 1200, 1500, 1800, 2400 i 3000 mm* |
| Special lengths: | 400-3000 mm |
| Standard width: | 400, 600, 800 i 1200 mm |
| Special width: | 260-1200 mm |
| Weight plain panel: | 15,7 kg/m2 |
| Surface treatment: | 3 layers UV-cured lacquer, gloss rate 20 |
| Veneer glue: | Melamin - urea glue with a low content of formaldehyde |
* 2400 mm max for Gemini® veneer
For demountable panels: weight of a particular panel shouldn't be more than 12 kg
For non-demountable panels: weight of a particular panel shouldn't be more than 12 kg
The weight of  additional ceiling elements (such as lamps and detectors) without a bearing construction shouldn't be more than 1kg
CEILING SOLUTIONS
SOLUTION   A

SOLUTION B

SOLUTION C

System based on load-bearing aluminium construction




DEMOUNTABLE

System Based on the traditional solutions with classical ceiling construction type T.

DEMOUNTABLE

System based on Capax profiles




DEMOUNTABLE

Fast ceiling demount Inside Montage Guarantees ceilings stiffness

 

Minimalises the space, needed for under the construction, up to 17-50mm.

Auditorium Maximum


 



Concert Hall Łódź


 

Demountable ceiling
MONTAGE
Panels are delivered as a final product; therefore it should be handled with a special care. They should be protected from mechanical damages, humidity influence and sun light.
The best time to mount the panels is the last faze of finishing works, when the room conditions are similar to the final moisture and the temperature conditions of the room.

CAPAX INSTALLATION SYSTEM
The Capax suspended ceiling system consists of support T-profiles that support the panels on the long sides. On the short sides the panels are pushed right against each other. The support profiles are locked longitudinally by means of a distance profile that is snapped firmly against the support profile and its stabilisers. The system is constructed for a panel width of 600 mm but allows the width to vary at intervals of 50 mm between 300 – 800 mm.

The system is constructed for a panel width of 600 mm but allows the width to vary at intervals of 50 mm between 300 – 800 mm.profiles for ceiling applications come in various lengths from 2400 to 3120mm.  
All profiles can be cut on site using a high speed circle saw. The profiles should be mounted using a self drilling flat headed screw. Countersunk screws should be avoided as they deform the profile. The Capax profiles come with a plain aluminium finish. Profiles utilized in corners or finishing ends are supplied in an anodized silver grey tone.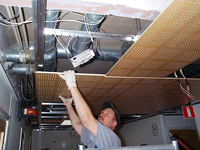 MONTAGE INSTRUCTION FOR GUSTAFS CEILING PANELS

1. Measure and indicate hanger distance c/c 1200 mm.
2. Hang up main runner profile away from the room.
3. Connect main runners
4. Fasten distance profile c/c 1200 mm.
5. Secure snap lock with self-drilling screw.
6. Mount the panel
7. Install mineral wool insulation
8. Dust off panels
MAINTANANCE OF GUSTAFS PANELS
Climate
Gustafs Panel System® is only for indoor use. Before installation, the room should be heated and well dried. A temperature over 18 Co and relative humidity of 25-60% are required. The maximum allowed humidity in the underlying construction is 15%.  
Construction damage
Protect the panels during transport and storage. Cover all parts that can be exposed to damage. Remember not to expose the panels to strong sunlight.

UV-Light
Wood is a natural material and changes over time when exposed to UV-light. Different wood species react in different ways and the UV-radiation varies with the seasons.

Water
Too much water causes discoloration and cracking in the veneer. If this happens it is necessary to replace the panel. Small damages can be reconditioned with furniture polish.

Heat
Temperatures over 50 Co may result in discoloration and cracking of the surface. See water damages above.
Cleaning
Gustafs panels are easy to maintain. Normally there is no need for a regular cleaning. If required the panels can be dusted with a dry mob or vacuumed.

Stains
Moisten a piece of cotton with lukewarm water and wipe the panels to remove most stains. For greasy stains cleaning fluid or white spirit can be used. For stains from fruit, berries, beer, wine or coffee use a synthetic cleaning fluid without ammonia in lukewarm water. Blood can be removed with cold water.